Now is the time to take stock of your current situation and make plans for your future. As you evaluate where you want to take your farm operation and how you're going to fulfill your visions, we invite you to check out three must-know programs and services for farmers.
Spotlighting tools that can help you manage your farm's risks and financial needs
Just like the weather, markets are always changing. Look to the Advance Payments Program (APP) - a federal loan guarantee program that offers low-interest cash advances to give you the flexibility to sell your crops and livestock when prices are most favourable for you.
Applicants can receive advances of up to $1 million, with the Government of Canada paying the interest on the first $100,000. APP offers flexible repayment terms, including from 18 to 24 months to fully repay your advances as you sell your products.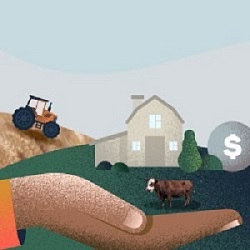 Are you thinking of upgrading or changing your farm's machinery and/or infrastructure? The Canadian Agricultural Loans Act (CALA) program is a loan-guarantee program which offers loans that can be used to establish, innovate and expand your farm. This tool offers up to $500,000 per farm operation and up to $3 million per agricultural co-operative and the federal government guarantees 95 percent of the loan to the lender. The program offers low interest rates and down payments, flexible repayment options, and incentives for new farmers. If you're looking for a loan, the CALA program may be the right tool for you.
Are you having trouble resolving farm debt? The Farm Debt Mediation Service is a free, voluntary and confidential service that can help get your debt repayment back on track. With the help of a financial consultant and a professional mediator, an independent financial review provides options and facilitates discussions in a neutral forum. The goal is to find a solution that works for you and your creditor, allowing you to get back to your farming priorities sooner.
Learn more about these tools at Tools to manage farm risk and finance