In July 2021, the Industrial Program plans to notify clients when they can be welcomed back into the facilities.
The Industrial Program resumed its activities last fall with a gradual and limited welcome plan for clients. Now that the public health situation is favourable and stable, the program plans to increase its welcome plan while maintaining the health and safety of its employees and clients.
For questions or comments, please contact aafc.programmeindustriel-industrialprogram.aac@agr.gc.ca; 450-768-7999.
Agriculture and Agri-Food Canada (AAFC) Saint-Hyacinthe Research and Development Centre's Industrial Program helps agri-food companies with small-scale food processing and testing needs and fosters innovation in the area of food research. (Watch the Industrial Program video)
Objectives
Helps agri-food companies with small-scale food processing and testing needs and fosters innovation in the area of food research.
Program Delivery
The Centre's facilities, located in St. Hyacinthe, Quebec, provide clients with direct access to sophisticated equipment and a versatile Research & Development (R&D) environment. Through the Industrial Program, companies can lease multifunctional pilot plants and access a full range of food processing equipment, as well as support, from experienced technologists including service of sensory analysis. Various fees apply, as well as AAFC's Remission Policy for fees under the Service Fees Act.
This versatility ensures a great deal of flexibility which is crucial for successful R&D. Through the Industrial Program, clients can process various commodities, such as milk (cow, goat, etc.) and dairy products, meat products, fruits and vegetables, cereals, and other food ingredients. Past clients of the Industrial Program have successfully developed a variety of food products.
Check out the Industrial Program video to see how the Industrial Program can become your secret ingredient for success.
To access the facilities, fill out and sign the application form. If you are a new client or a client who has not done business with AAFC in the past two years, you must also fill out a client account application form. The Manager, Integrated Services and Industrial Program or a technical co-ordinator will contact you in order to prepare a contractual agreement prior to the beginning of the project.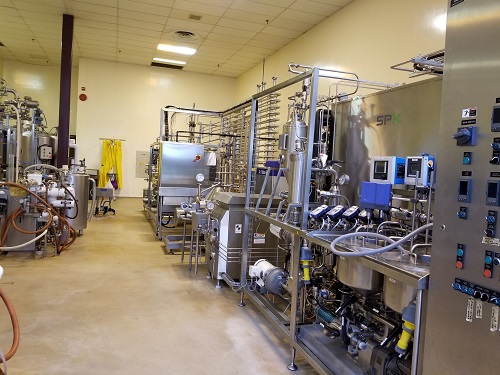 Resources
List of pilot equipment

The Industrial Program possesses multifunctional pilot plants containing equipment designed to carry out the processes used in almost every sector of the food industry. Between 2016 and 2018, an investment exceeding $20 million has enabled the upgrade of plant equipment. The upgrade modernized and improved the plant's scientific and technological capacity, allowing federal researchers to better support innovation, adoption and sustainability in the sector.

The pilot plant directly supports the food processing industry by providing facilities that foster innovation. This includes the development of new or improved products, adopting technologies that boost productivity, and support for new enterprises.

Search the pilot equipment list

Sale of equipment

If the equipment you are looking for does not appear on this list, please let us know. Although we cannot guarantee that we will buy the desired equipment, your suggestions will help us to draw up a list of priorities to better respond to the needs of Canadian industries.

If you are a supplier and want to bid on equipment tenders, please visit Buyandsell.gc.ca where tenders will posted regularly.

We will also be disposing of some equipment. If you are interested in buying some, please visit the federal government's official website for Crown asset sales regularly, at GCSurplus.

Procedures

Clients of Agriculture and Agri-Food Canada Food Research and Development Centre's Industrial Program can develop various products. The list below represents only a portion of the procedures available through the Program.

Procedures (partial list)

Biomass and metabolite production
Cheesemaking and cheese aging
Coagulation
Cooking
Drying
Evaporation
Fermentation
Filtration
Freeze-drying
Freezing
Grinding
High-pressure processing
Homogenization
Irradiation
Mixing, emulsification
Packaging and processing
Pasteurization (thermal, filtration, ultra high pressure)
Pressing
Smoking
Sterilization (canning, UHT, aseptic processes)
Texturization, extrusion
Three-phase centrifugation (liquid-liquid-solid)
Two-phase centrifugation (liquid-liquid, solid-liquid)

Other available facilities

Fully computerized sensory evaluation laboratory
Crossroad for Food Innovation Technology (Business incubator)
4 confined pilot plants including services, office, storage room and cook room
2 laboratories for emerging businesses
40 controlled atmosphere rooms
20 high-security offices
Microbiology, biotechnology, biochemistry, physiology and chemical analysis laboratories
Library with access to scientific and business data banks
94-seat auditorium with multimedia projection and sound systems
Conference and meeting rooms

For more information, please contact us at 450-768-7999.

Other services

Information retrieval service

The Industrial Program's information specialists are available to support clients with information research. The program provides access to a large collection of print and digital information to meet your needs and more!

Contact the Industrial Program for more information : aafc.programmeindustriel-industrialprogram.aac@agr.gc.ca; 450-768-7999.

Products

Clients of Agriculture and Agri-Food Canada Food Research and Development Centre's Industrial Program have used the program's equipment and facilities to make a variety of products. The list below contains some of the products created by them.

cheese
processed cheese
yogurt
ice cream
butter
margarine
milk powder
cold-pasteurized milk
condensed milk
canned food (fruit, vegetables and meat)
pasteurized prepared food
powdered and liquid ingredients
ham
sausages
pâtés
mousses
jams and preserves
sauces
juices
bacterial cultures
condiments (sauces, ketchup, mustard)
pudding
breakfast cereal
snacks
bread
cakes
cookies
crackers
prepared fresh fruit
Fee schedule
Industrial Program access and support fees

| Description | Hourly cost ($) |
| --- | --- |
| Access | 43.69 |
| Support: Researcher | 65.55 |
| Support: Professional | 41.62 |
| Support: Technologist/Research Assistant | 31.22 |
A cost estimate is submitted for approval before the beginning of a project.
Access time is calculated based on the actual time the equipment is used and excludes time used for consultation, protocol preparation or data analysis.
Supplemental charges directly related to a project (such as copies, supplies or equipment cleaning.) are charged at the cost actually incurred by the Centre.
This fee schedule is subject to change without notice.
Service Standards
Our goal is to achieve our service standards a minimum of 80% of the time under normal circumstances:
Respond to general inquiries made to our phone number or email address before the end of the next business day
Acknowledge receipt of your application within 1 business day
Assess your application and send you an approval or a rejection decision notification within 10 business days
Contact Information
For more information about the Industrial Program, or to access the facilities and equipment, please contact us at:
Email: aafc.programmeindustriel-industrialprogram.aac@agr.gc.ca
Telephone: 450-768-7999
TDD/TTY: 613-773-2600

Submit your feedback