Agricultural Climate Solutions (ACS) is a multi-stream program that will help to develop and implement farming practices to tackle climate change. Through agricultural practices, such as shelterbelts or cover crops, farmland can store carbon and reduce greenhouse gas emissions.
ACS is a program under the more than $4 billion Natural Climate Solutions Fund. Agriculture and Agri-Food Canada (AAFC) is partnering with Natural Resources Canada (NRCan) and Environment and Climate Change Canada (ECCC) to develop projects that invest in natural climate solutions, including NRCan's 2 Billion Trees program and ECCC's Nature Smart Climate Solutions Fund. These solutions will contribute to meeting Canada's greenhouse gas reduction targets and provide benefits towards the well-being of all Canadians.
Agricultural Climate Solutions program streams
Living Labs
Agricultural Climate Solutions – Living Labs, is a $185 million, 10-year program that will establish a strong, Canada-wide network of living labs. Through these living labs, regional leaders will bring together farmers, scientists, and other sector partners to co-develop, test and monitor beneficial management practices on working farms to reduce Canada's environmental footprint and enhance climate resiliency. For more information on this stream, visit The power of farms and Working together.
For information on participating, visit What this program offers, Who is eligible and How to apply.
On-Farm Climate Action Fund
Agricultural Climate Solutions – On-Farm Climate Action Fund, is a $200 million, 3-year fund (from 2021 to 2024) that will support farmers in adopting beneficial management practices (BMPs) that store carbon and reduce greenhouse gases in three areas: nitrogen management, cover cropping and rotational grazing practices.
Find out more about the On-Farm Climate Action Fund and how to apply.
Related links
Feature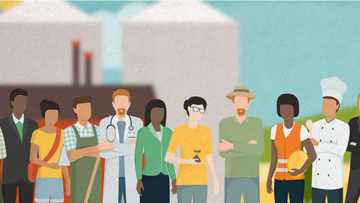 A strong nation-wide network that will harness the power of nature to store carbon, reduce greenhouse gases and deliver the right solutions to farms to combat climate change.
Contributors
Contact us
Please contact us by email at: aafc.acs-sac.aac@agr.gc.ca