Clubroot is a serious, soil-borne disease of brassicas. These cruciferous plants include vegetables such as cabbage, and most importantly for western Canada: canola. As the name suggests, the disease affects the roots of the plant so that they are club-shaped and unable to properly transport water.
With the spores of the disease able to live dormant in soil for up to 20 years, the disease is not new to Canada. However, it did rise to prominence in the early 2000s, as canola acreage grew and the pathogen population started to thrive and reproduce. The disease has now spread from its original centre of outbreak near Edmonton, Alberta across the Prairies, where canola is a major crop.
Much like how colds and flus spread in humans, clubroot is highly transmissible through contact. It has flourished and spread so rapidly thanks to spread by erosion, infected soil attached to farm equipment and through too frequent canola plantings. Diligent protocols, such as rotating the type of crop planted in a field year over year and disinfecting equipment to stop the spread, have been a producer's initial line of defense.
On the bright side, the understanding of genetic resistance to diseases is advancing, as one can see from the covid pandemic. And it's advancing in the field of clubroot too. Dr. Fengqun Yu of Agriculture and Agri-Food Canada's Saskatoon Research and Development Centre is at the forefront of this research.
Dr. Yu started working with AAFC's clubroot team in 2011 as the expert in clubroot genetics. At that time, there was no canola germplasm (genetic material) resistant to clubroot at AAFC. But after more than ten years of hard work by a very dedicated team, her group has performed the most comprehensive genetic studies on clubroot in the world. They have identified more than 20 clubroot resistance genes, from Brassica species that can be used by breeders for developing new cultivars, and published 10 papers on clubroot genetics and have quickly shared these technological advancements with researchers who can apply them to their breeding programs. They are world leaders in this area.
"I am so excited to see that AAFC currently has abundant canola germplasm developed through our research program. There are lots of studies to be done and exciting discoveries ahead. More importantly, I am so glad to see my research can benefit growers of canola, mustards and vegetable production."
- Dr. Fengqun Yu, Biology Study Leader (Plant Pathology), Agriculture and Agri-Food Canada
Something else Dr. Yu is excited about: they developed the first set of canola lines that carry identified individual clubroot resistance genes, which could revolutionize the race differentiation (races are unique populations in which all individuals carry the same combination of virulence genes) for the clubroot pathogen. This is important because  it will provide crop breeders and growers with information they can use when developing or growing cultivars with increased clubroot resistance.
With a dedicated team and continual improvement in the science of genes, Dr. Yu and her team look forward to getting to the genetic root of clubroot.
Key Discoveries/Benefits
Led by Dr. Fengqun Yu, a team of Saskatoon-based scientists recently developed a new mapping by sequencing method and a pipeline for identification of genes, which has greatly accelerated the development of genetic resources.
The team has performed the most comprehensive genetic studies on clubroot in the world by identifying more than 20 clubroot resistance genes and markers, including the first gene in black mustard and the first major gene in Brassica oleracea (species that includes cabbage, broccoli, cauliflower, kale, Brussels sprouts and other leafy green vegetables) for resistance to clubroot.
They have also developed molecular markers linked to each of these genes for use in molecular breeding and developed canola and mustard germplasms for resistance to clubroot that can be used by breeders.
They developed canola breeding lines highly resistant to almost all clubroot races identified in Canada.
They discovered two genes in complementary action could exhibit a broad spectrum resistance  to Canadian clubroot pathogens; therefore, they recommend that judicious use of two genes in canola cultivars could possibly be effective against the disease.
Photo gallery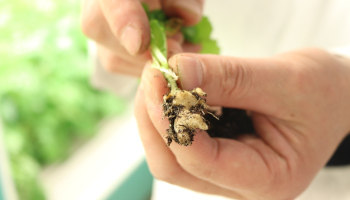 Related information