In the face of a global pandemic, 2020 has been a year like no other for the young farmers across Canada.
It is also the 40th anniversary of the Canada's Outstanding Young Farmers Program (OYF) organization. Each year since 1980, OYF honours the next generation of leaders in the Canadian agriculture sector, supported in part by Agriculture and Agri-Food Canada, provinces and territories, and the Canadian Agricultural Partnership.
We check in with some of last year's crop of honourees and winners to see how they've adjusted to the current reality, in ways big and small.
Read their stories:
Mylène Bourque and Simon Michaud – Kamouraska, Quebec
Mylène and Simon still remember their experience at last year's competition. They were one of two national winners, recognized for the business sense and adaptability they demonstrated in running their dairy operation in their hometown of Kamouraska. That adaptability was put to the test in 2020.
The competition win originally gave them a boost of confidence to take on more diverse projects. They have added potato farming to their operations, as Simon has begun purchasing his uncle's potato business.
Things were going to plan, when COVID-19 suddenly entered the picture.
"It came during a period of intense harvest," Simon recalls. "We weren't hit full-force," Mylène explains. "The situation wasn't ideal, but I just thought to myself: 'We have enough to eat, even if the variety on our plate sometimes has changed.'"
With four children enrolled at two different schools, the family had to take stock of everyone's safety in this new reality. At the same time, Mylène and Simon had to rethink their operations, which rose as fell along with the intensity of the virus.
At the low points, they found themselves adjusting to lower local demand for their milk.
The farm is now on track to meet its targets, which Simon credits to the strong interest in dairy in Quebec as well as representation from dairy organizations and stakeholders.
Personally, they are also doing well. Having gone through tense and positive moments, the Québécois farmers are encouraging their colleagues across the country to not freeze on any single obstacle. "In difficult moments, remind yourself of the goal," Mylène says. "The road ahead isn't all blackness. Latch onto positive moments." Simon adds, "We kept in touch with our social circle through thick and thin. It helps us get past hardship. If we'd been more isolated, maybe we wouldn't have done as well."
Will and Jen Bergmann – Glenlea, Manitoba
Against all odds, it appears that the pandemic has had a positive effect on last year's Manitoban honourees, both on their farming operations as well as their business outlook.
Before COVID-19, Will would make the 10-minute drive to the city two or more times a week to deliver produce from his vegetable garden to Winnipeg restaurants.
Now, the tables have turned, and Will is welcoming restaurant chefs from the big city to his community farm. Will enjoys nothing more than sharing his farming knowledge with others, and says that his reach with chefs has tripled in spite of the pandemic.
"Regardless of how big COVID gets, people will always need to eat," Will points out.
Already active in the Winnipeg food scene, Will has found even more ways to develop connections after COVID-19's arrival.
Will stays connected to audiences through social media, where he takes time to explain the ins and outs of Canadian agriculture from a first-hand perspective. He hears people's concerns about their food, and regularly fields questions about how it gets from the farm to the dinner table.
"If we can share the stories of these family farms, people connect in a different way," Will says. "If we share our emotions as well as our thoughts, [audiences] start listening to whatever is shared.
"There's this incredible thirst to bridge the urban and farming communities at either end of the supply chain, here in Manitoba," Will continues. "People want to know where their food comes from, who farmers are."
Cammy and James Lockwood – Cobble Hill, British Columbia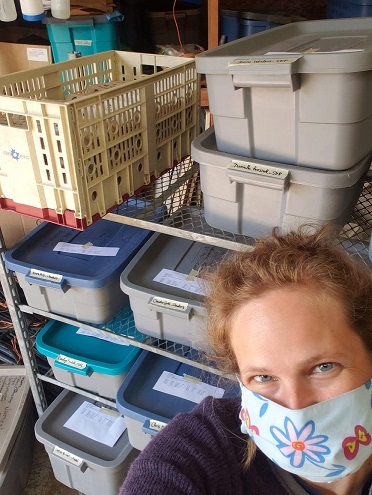 Cammy had always been on top of her and her husband's egg farm. The property is insured against forest fires, while computer files are regularly backed up.
But along with the rest of British Columbia's food-service industry, Lockwood Farms couldn't have known that COVID-19 was coming.
When the pandemic arrived in British Columbia, it had a blanket effect on B.C.'s food-service industry, including on Lockwood Farms' operations. Within one week, their last restaurant customer withdrew their business from the farm's egg sales.
"We knew the change would be bigger than us," Cammy recalls. She attempted to go back to selling her goods at farmer's markets, but very few shoppers turned up.
Soon, the mother of three young children realized that she would have to pivot so that Lockwood Farms could stay in business.
As Canadians flocked to online purchasing, Cammy quickly drew on her software development skills to build an online ordering platform. Between texting, emails and phone calls, she gathered enough of a client base to launch the online service in July. In two short weeks, the home-delivery business jumped from 30 orders a week to 250 orders. All the deliveries were carried out by volunteers until mid-September, when restaurants also started filing their orders.
Coming out of this difficult time, Cammy has new thoughts on what's important in life. Now, science and safety come before business revenues, especially now that business is more stable. She has even more appreciation for her community's support, and also credits government support for helping small businesses weather the pandemic.
"Even if COVID-19 has changed how we produce food, our community came together during our time of need," Cammy says. If the pandemic initially uprooted her existing business model, business has bounced back stronger than ever with the community's backing.
Jony and Jan Roos – Brownsville, Ontario
For the Roos family, the pandemic has only driven them to work harder on their dairy farm. Together, Jony and her husband Jan raise their four children and upwards of 2,500 kids.
Perhaps luckily for them, these "kids," are actually the young goats of the Roos Dairy Goats herd.
"Pandemic or not, the animals still need to be taken care of," Jony points out. "Jan and I are down-to-earth people. We think there's no need to feel fear or panic."
Everything is continuing as normal on the farmstead, located just over 30 minutes east of London. It's business as usual: Jan looks after the goats, while Jony handles roadside produce sales, bookkeeping, and goat-kidding season.
For Jony, the pandemic highlights how central the food industry is to communities during COVID-19. She salutes the farmers, truckers, processors and food-chain stores for their role on the front lines of Canada's food supply. "Food just does not fall on your plate, just like that," Jony says.
The couple has also been preoccupied with some side projects. Before COVID-19, Jan had already been developing a new pellet feed mixture for the goats. He thought to source some machinery from international suppliers; however, some of the shipments were delayed recently due to the pandemic.
On Jony's end, as she had already created an app to track her goats' health she has spent some additional time during the pandemic to refine its features. Currently, the app records data on feeding, medication and other day-to-day benchmarks.
During the warmer months, Jony also sells roadside produce near the farm.
"A lot of customers are interested in buying local," Jony says. "They don't want to wait in line at the grocery store."
Keeping busy has allowed Jony and Jan to not linger on the effects of COVID-19 on their lives.
"I think of this as another disease," Jony says. "We try to use our common sense – that's our main goal."
Aside from a cool attitude, two things help her to power through these months.
"I live on coffee. Since the COVID period started, I take it at the same intensity, maybe more." Jony also adds, "I take life one day at a time, putting my trust in God's hands."
Natasha Pospisil and Dallas Vert – Kirriemuir, Alberta
Northeast of Calgary and 20 minutes from the border with Saskatchewan, is the hamlet of Kirriemuir which last year's Alberta regional winners call home. While COVID-19 is an evolving situation, they are focused on doing what they can to prevent the virus from spreading in their community.
"The biggest hoop to jump through was how to guide our customers during this time," Natasha admits.
Natasha and her husband Dallas enforce physical-distancing measures between their customers and employees. During normal times, Dallas' fertilizer retail business holds up to 12 people in the office. Now, customers wait for service in their trucks and vehicles outside the building. Inside her general store, Natasha also installed Plexiglass barriers for everyone's added protection. Between them, the couple also maintains a grain farm and an agricultural insurance advisory service, while raising three young children.
"Our biggest concern was keeping our team healthy," Natasha says. Whether it's a family member or an employee, "if we lose one person, it's like losing a leg: lose a few bricks here, and all of the pieces start falling apart."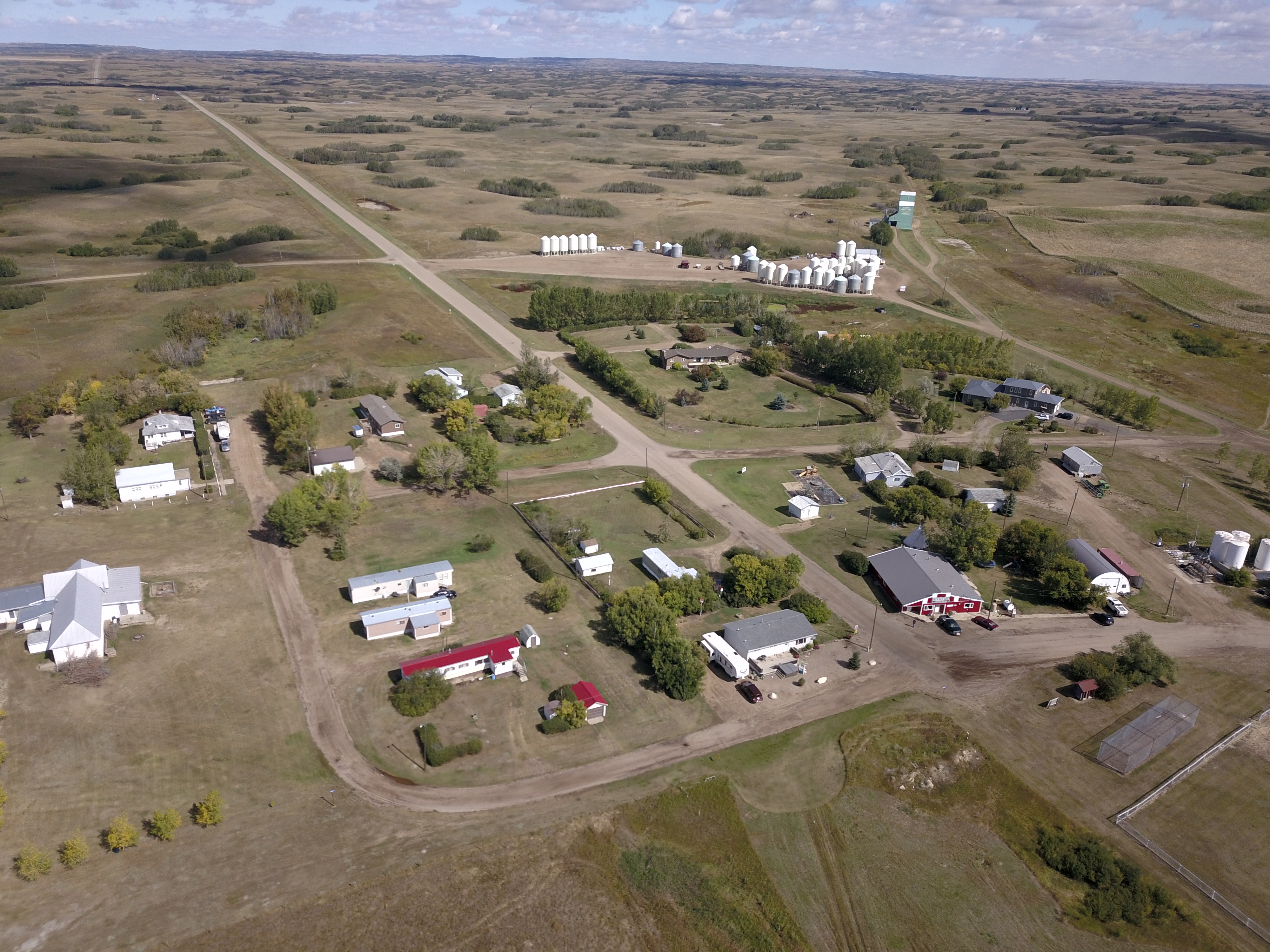 The other part of the balancing act is with keeping up morale, even if the virus's forecast is uncertain.
"If we let the virus overtake our lives and we get worried, you can't use that as an excuse to slow you down," Dallas says. Whether the restrictions come from the pandemic or something else, he encourages people to not view hardships as a death sentence. "There's always a positive, creative way of getting through those circumstances." To continue growing and preparing for what comes after the pandemic passes over, he and Natasha are looking to future: behind the Plexiglass-fitted counter, their kids are already giving service to customers at the general store.