Despite how it may seem, success isn't a game of luck; it requires a desire to learn, adapt, and most importantly, a willingness to take a chance and try something new. Farmer Dave Kranenburg took such a chance when he exchanged his downtown office for 70 acres of rolling woodland. Coming from a tech background, Dave didn't know much about farming. Now, he's combining his newfound knowledge with his tech know-how in order to help his fellow farmers feed more Canadians and reduce food waste.
Growing steady
Listening to the birds chirping in the forest canopy only confirmed what Dave already knew: packing up his family and taking over Kendal Hills Farm from his wife's parents was the right decision. Although early mornings and long days aren't for everyone, Dave loves it. But one thing he couldn't shake was the amount of food waste he was producing. After speaking with other farmers at the market, Dave discovered he was struggling with a problem that plagued many small farmers: the "grow and hope" strategy
"That's what most small farmers have to rely on," Dave explains. "We grow food and then we hope that someone will buy it at the market."
Unfortunately, there wasn't always a buyer. Selling to restaurants and small grocers was never certain and attendance at a farmer's market could change with as little as a few drops of rain. Not only did the "grow and hope" strategy affect farmers' bottom lines, but it was also the cause of most food waste on small farms.
There had to be a way to turn the "grow and hope" strategy and into a "grow and guarantee" strategy. But how?
Between maintaining the farm, working markets, and spending time with his family, Dave began to experiment with different ways to guarantee buyers for his products. He tried creating an online shop, encouraging his customers to reserve food for pick-up and allowing restaurants to place orders up to a year in advance. While these efforts helped eliminate waste, Dave knew there was more he could do. But it wasn't until spring 2020 when pandemic-related closures allowed Dave to give his website the time and attention it deserved.
Then he had a major breakthrough.
Jumping into the virtual world
Within a few days of the pandemic's isolation period, Dave launched an online farmer's market experience. Rather than just create a store for his own farm, Dave's idea evolved into a marketplace for small farms across the Greater Toronto Area.
"I wasn't interested it calling it 'Kendal Hills Farm' and only having friends' products on it," Dave recalls. "This was no longer just our farm's store. This was something different. So I thought, 'let's see how far we can go.'"
Dave's online farmer's market, under the name Graze & Gather (formerly the Virtual Farmers Market), acts as a distributor for farmers to sell food before it is even harvested. Farmers share their expected yields, and Dave posts the inventory to the website. Once a product is sold, it's harvested, packaged, and delivered directly to the customer's home. More importantly, it operates as a zero waste grocery store.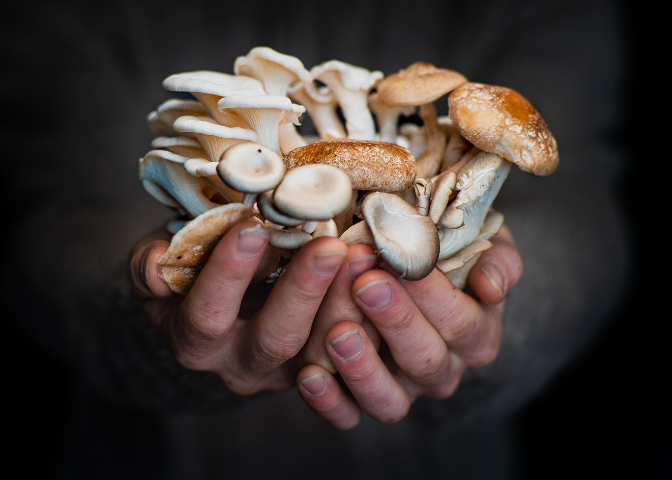 And it worked! The website was a win for everyone involved: farmers had guaranteed buyers for their products, and customers could access farm fresh food even if they couldn't make it to a farmer's market.
But what happened to the products that farmers didn't sell through the website? Just because Graze & Gather wasn't producing waste didn't mean that there was no waste at all. It just existed elsewhere. Dave knew his work was far from done, but he needed some help crossing the finish line.
Fortunately, an opportunity appeared when Dave stumbled across Agriculture and Agri-Food Canada's (AAFC) Food Waste Reduction Challenge.
Challenging the business model
AAFC's Food Waste Reduction Challenge: The Business Model Streams
As a part of the Food Policy for Canada, AAFC launched the Food Waste Reduction Challenge, or "the Challenge," on November 19, 2020. The Challenge was created to accelerate and advance the deployment of diverse and high-impact solutions in response to food waste in Canada. It consists of three reporting stages, during which innovators compete to win increased amounts of grant funding based on their results. The Challenge has two sets of streams: Novel Technologies and Business Models. In the Business Models streams, candidates must present a model that supports a solution ready for commercialization and provide an innovative way of doing business to prevent or divert food waste.
AAFC was looking for innovative projects that they could support, and Dave's idea was perfect. He proposed structuring the online market as a circular wholesale system, meaning imperfect, less desirable foods that could not be sold to customers would be sold to restaurants and food manufacturers instead. Chefs and manufacturers would then transform these foods into non-perishable products, which customers could buy through the website.
Dave put his best foot forward and submitted an application. And it was worth it: he and his team made it to the semi-final and received a grant of $100,000!
"It felt good to win," Dave says. "The launch of the virtual farmer's market was like jumping off a cliff and building the airplane as we fell. We felt like we were doing right by small farms, and when we became a semi-finalist, we got external validation from experts who saw our potential."
Unfortunately, Dave and his team didn't feel ready to move on to the next round due to the complexity of their work. However, they still found success by investing in people and growing the company: with the prize money, Dave has hired people familiar with the agricultural industry to work directly with farmers. Additionally, in order to expand the shop's offerings and improve its capacity, Dave has invested in technology to manage their large catalogue and additional cold storage.
For Dave, the success of the virtual farmer's market has proven that a better and more efficient local food system is possible. But it also showed him that its full potential is still being realized. By continuing to grow a network of small farms, he hopes to increase his delivery range and feed more families. It takes a lot of work to change a system, but just like the food he sells, Dave's efforts are not wasted.