Canada's local food banks have proved instrumental in supporting our most vulnerable when they need it most. Winter is here, and the need is greater than ever. To shine a light on their efforts, we will be featuring some local food banks across the country and telling their stories.
Peachland Food Bank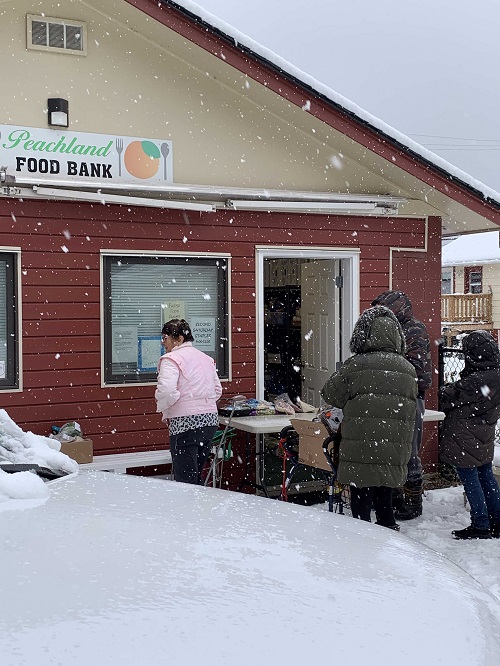 At the Peachland Food Bank in British Columbia's Okanagan Valley, 2020 was meant to be a year to celebrate.
In mid-March, Judy Bedford had retired from her job as a pharmacist and was looking forward to increasing her engagement at the Food Bank, where she serves as its president.
2020 held all the promise of a good year. As it turns out, Judy's retirement fell just before COVID-19 brought immense change.
Judy's thoughts went first to the Food Bank's clients, many of whom live at the seniors' residences nearby. "I know our people," Judy says. "These are our neighbours and friends who have had a bit of a hard time. COVID is just another hardship on top of what they might be dealing with on a day-to-day basis."
If there's one thing that's been unshaken at Peachland Food Bank during this time, it's the sense of dignity that leads the organization. "We try hard to make people feel comfortable and safe." Judy explains. "We often hear 'I didn't want to come and I never want to come again.' We understand. We aren't offended. We know that standing in a food bank line was never on their bucket list."
Every Friday and one Saturday a month, Judy and her volunteers supply food to about 30 families. With COVID-19 safety measures in place, patrons show their "grocery list" to the crew, and their items are prepared for them as they wait outside the facility. A runner assembles the box, and can bring it to a waiting car or deliver it to residences within walking distance.
Peachland Food Bank recently bought new fridges and freezers to store fresh food, with the help of a grant from the Local Food Infrastructure Fund at Agriculture and Agri-Food Canada. The new equipment has allowed the food bank to accept more donations without giving up space for the basic perishables that need to be on hand.
Clients have been eager to share how they have been using the food items they have been given. Everyone was excited to receive a bag of cherries, can of condensed milk and whipped cream that had arrived just on time – the makings of a delicious ice cream made with fresh Okanagan cherries.
The goodwill goes both ways. Judy shares the story of one client. "This kind fellow lives in a one-room place and only has a slow-cooker for cooking. We tailor his parcel totally towards what is reasonable for him to cook. One day, he came up with $1,000 to give to our food bank – he said we would spend it better than he could. People are very caring, it's humbling to see the generosity of someone we know has very little for themselves, let alone to share."
After pausing, Judy finishes on a thought: "I'm just amazed at how people are so good, so kind, even in a time of great difficulty."
St. Faith's Anglican Church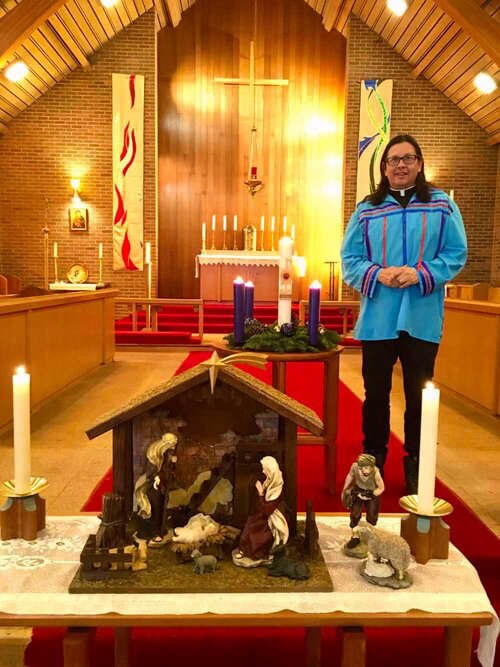 In the northern part of Edmonton, many of the locals are in a difficult situation. As Reverend Travis Enright explains, poverty issues had been out in the open – literally on the city streets – before the pandemic hit. As Travis shares some thoughts from personal experience, it becomes clear that food security is central to his vision for a healthy community.
Personally, Travis identifies as a member of the Cree community. As a reverend, that means he straddles two worlds: while he leads services around major Christian events like Christmas, Advent and Easter, he personally ensures that his church's assistance reaches all communities who need it.
"Food has the power to bring people together," says Travis. "Ten thousand years ago, the First Peoples hunted and ate together. Today in normal times, you might have hipsters with man buns going to a pub. As they share their experiences over a meal, they need their stories to be told, their laughter to be heard."
According to Travis, this is where the Church comes into the picture. "The Church has moved from something that it once was, to something it should have been all along: a centre for care," he says.
To that end, Travis and St. Faith's Anglican Church have organized a meal delivery service named "PrayerWorks." Though volunteer numbers are down during COVID, the service continues to deliver up to 300 meals per day to those who need it, three times a week. A group of volunteers cooks large batches from scratch the day before delivery. They are cooled overnight in the fridge, then handed out the next day. The goal is to make tasty food with high protein content, while keeping fat down. To that end, meal kits can contain a sandwich, vegetable, and a hot item such as rice, beans, eggs, or a casserole.
To make this possible, a new fridge was acquired with the help of a grant from the Local Food Infrastructure Fund at Agriculture and Agri-Food Canada. The timing couldn't have been better, as their old fridges were malfunctioning and needed to be thrown out.
But there's no sugar-coating the impact of COVID-19 on their morale.
Getting through the pandemic may be an ongoing challenge. But Travis draws his strength and inspiration from the same community he serves. "PrayerWorks is about minimizing loneliness," he says. "That's why we do our meal sharing. The community gathers, enjoys each other. Vulnerable people do better as a community."
On a personal note, PrayerWorks offers Travis a safe space for his mental health during the second wave of the pandemic. "Serving a meal, having people commune around it, it gives us time to tell stories and laugh," Travis says. "We feel like we're back in the normal times."