More and more Canadian farmers and agricultural businesses use cutting-edge farming practices to put delicious, quality food on our tables. Discover how they feed Canadians, while protecting our environment and the well-being of their communities – it's all in a day's work for Canadian food producers.
Egg producer, Ferme St-Ours, Quebec – See how Marie-Pier uses sustainable practices to ensure the continuity of the farm for other generations.
Agricultural producer, Van Arkel Farms, Dresden, Ontario – See how Laurent produces food sustainably, to safeguard the farm and soil so his children can carry on the family farm tradition.
Dairy Farmer and President, Nutrinor, Saint-Bruno, Quebec – See how Dominic has a positive impact on his community and promotes a sustainable approach to meet the needs of Canadians.
Wine producers, Kalala Organic Estate Winery, Kelowna, British Columbia – See how Karnail is proud of his family and their work on the organic farm.
Founder and CEO, 3F Waste Recovery, Main Brook, Newfoundland – Discover how Ben and his team see the value in waste and are working to give new life to what's typically seen as unusable.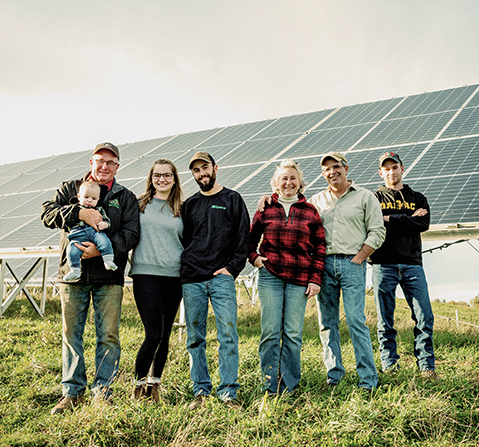 McCrea Farms, Shannon, New Brunswick – See how Nancy and her family are a perfect example of an innovative, hands-on approach to farming solar energy.
Cattle producer, Tilston, Manitoba – See how Tyler Fewings cares about healthy food production and a healthy environment.
Producer - Entrepreneur, ColdAcre, Whitehorse, Yukon – Discover how Tarek and his team are making a difference for the planet and for their community.
Producers, Manning Family Farm, Falmouth, Nova Scotia – Discover how Dean and Catherine embraced environmental sustainability.
Entrepreneur, Fermes Lufa, Montreal, Quebec – Discover how Lauren farms responsibly, in the city.
Discover how Canadian farmers and agricultural businesses are growing a better future and taste their commitment.